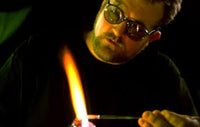 Itttttt's Brock
Brock has been blowing minds with his glass art for over 20 years!
Check out the new site. Now with FREE SHIPPING on all orders!
I love Brock's glass art. It makes the perfect gift!

Katie G.
Brock's art blows my mind!

Dave M.
My beautiful wife got me one of the coolest anniversary gifts ever, this hand made Jerry Garcia beer glass!

Tim W.